Carbonator Carbofresh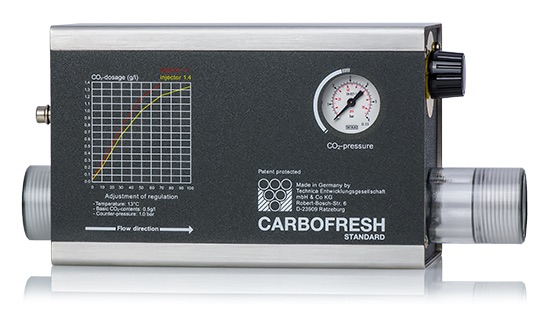 Carbonator Carbofresh for producing beverages that contain CO2 with a content of up to 1,8 g/l. The device is suitable for producing sparkling wines, carbonated water, soft drinks and carbonated apple juice or apple wine. Maximum flow performance up to 2000 l/h.

Technical INFORMATION
| | |
| --- | --- |
| Max. flow performance | 2000 l/h |
| CO2 dosage | 0 - 1,8 g/l |
| Max. CO2 pressure | 7 bar |
| Max. pressure | 6 bar |
| Pressure loss min-max | 0,7 - 2,0 bar |
| Dimensions | 100 x 300 x 140 mm |
| Weight | 5,5 kg |
The unique incorporation of fine carbon dioxide bubbles lends freshness and lightness to the flavour and body of your wines. Even with dense and voluminous wines, it imparts aromas. The subtle carbon dioxide bubbles make white and rose wines fresher, livelier and aromatic. Carbofresh accentuates the bouquet and emphasizes the quality of your wines.

Excess and disturbing CO2 can be removed from red wines. Instead of charging with carbon dioxide, plain nitrogen is used. The Carbofresh processor makes it easy to significantly reduce the CO2 content. The wine is simply passed through the Carbofresh processor and conveyed unpressurized into the tank.
The device works purely pneumatically and doesn't need any electric energy supply. The desired carbon dioxide concentration is set directly at the device itself. If product flow drops below a minimum flow rate, the device is automatically deactivated. When the product flow increases, carbonation is activated again. A feed pump (not included) presses the beverage through a built-in venturi injector, where the desired amount of CO2 is added. The CO2 bubbles dissolve in the downstream mixing stage.
The main advantages of the Carbofresh technology:
Dosage is shut on and off automatically with the switching o the pump

No electrical connections required (purely mechanical controls)

Proportional gas metering (dosage adapts automatically to the flow of wine)

Can be installed at bottling station or in front of filter

Exact and reproducible dosage

Simple and safe operation
Download product brochure: