Stainless steel mixing and transport tank, Speidel RO-Z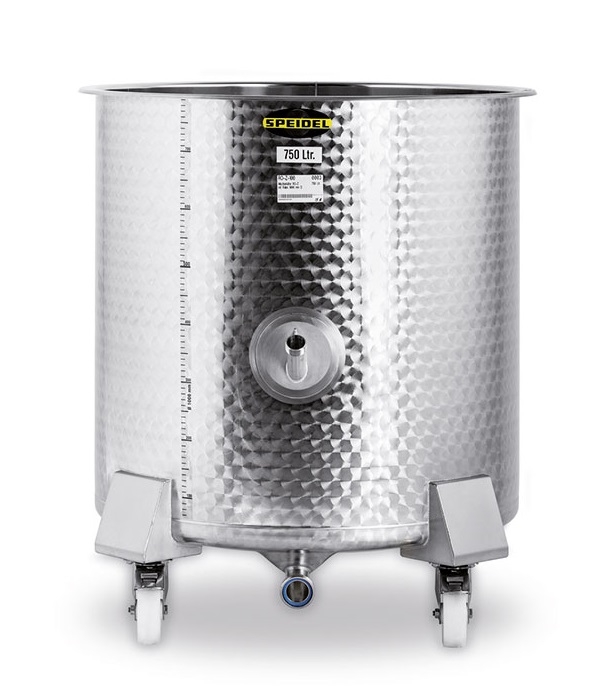 Stainless steel tank for mixing and transportation, RO-Z series. Tanks have high-quality rollers for easy transportation. Mixer available as an accessory. Variable capacity from 530 up to 1000 litres.

Technical INFORMATION
| | | | |
| --- | --- | --- | --- |
| Product code | Capacity | Diameter | Height |
| RO-Z-082-0530 | 530 l | 820 mm | 1318 mm |
| RO-Z-100-0750 | 750 l | 1000 mm | 1233 mm |
| RO-Z-120-1000 | 1000 l | 1200 mm | 1237 mm |
The robust mixing and transportation tank RO-Z is completely made of stainless steel. It can be easily moved even without forklift due to its four top-quality fixed rollers and guide rollers (made of polyamide) for heavy loads. The RO-Z can be used for stirring, mixing or blending. Tanks have open tank top with strengthening rim and connecting neck for stirring device with external thread connection 37W 47x1/9". Stirring/mixing device can be ordered separate accessory for the tank.
Tanks have vaulted, stable tank bottom with integrally moulded forward downslope for complete draining. There is moulded connection neck with bottom outlet: in case of 820mm ø external thread NW40 DIN11851, from 1,000mm ø upwards external thread NW50 DIN11851 . The tanks are equipped with four fixed rollers and guide rollers made of polyamide ø 150mm, case made of stainless steel, guide rollers are with brake.
High quality stainless steel containers from the leading German manufacturer Speidel are suitable for storing juice or for the fermenting and preserving of wine, cider or beer. Only the first-class stainless steel, which is thicker and more durable than regular, has been used to manufacture these containers. The tanks are smooth from inside and have Speidel's legendary concealed welds, which ease the cleaning of the tanks and prevent the accumulation of dirt. The containers can be fully filled and emptied, which prevents any residue remaining in the container that can endanger its contents. Speidel's tanks are long-term companions and help you to save time and money.