Stainless steel pressure tank, Speidel FS-MO-3B-ZKG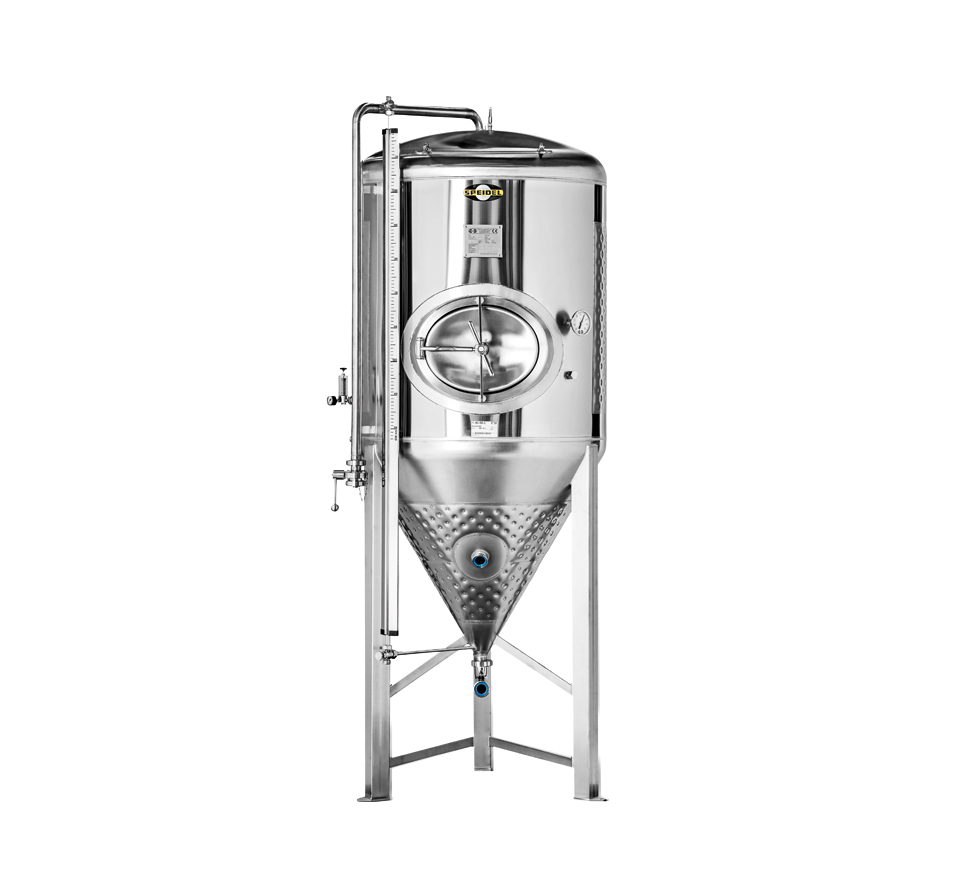 3 bar stainless steel tanks with cone bottom for professional use. Suitable for fermentation and maturing or simply for storage. Speidel FD-MO-3B-ZKG tanks have capacity from 300 up to 20 000 liters.

Technical INFORMATION
FD-MO-3B-ZKG series tanks are designed for professional users and are suitable for producing beer in larger quantities. Tanks have approved and constructed till 3 bar working pressure, customized individually for your needs. The cylindrical-conical fermentation tank is ideal for the main fermentation and maturing. The yeast is gathered in the centre of the cone at the bottom of the tank. Depending on the model, the yeast can be removed at the bottom outlet. Alternatively, a racking outlet at the cone can be used to extract the clarified beer. This model is mostly used with the one tank method.


FD-MO-3B-ZKG series tanks are free-standing on welded-on pipe legs that have mounting holes. Tanks bodies are made entirely of stainless steel (1.4301). Tanks have stable cone bottom end with approx. 60° surface and weld-on thread NW 10 DIN 11851 for installation of sampling tap.
Tanks with a height of 2 m and upwards come with safety ladder.

Smaller tanks have filling dome NW 400 with flap lid.
Tanks which capacity is starting from 1000 liters have welded stable manhole neck with small swivelling doors.
Tanks which capacity is starting from 850 liters have cleaning spray head, drill hole 360° with spray head holder, including cleaning hose with connection thread NW 40.
High quality stainless steel containers from the leading German manufacturer Speidel are suitable for storing juice or for the fermenting and preserving of wine, cider or beer. Only the first-class stainless steel, which is thicker and more durable than regular, has been used to manufacture these containers. The tanks are smooth from inside and have Speidel's legendary concealed welds, which ease the cleaning of the tanks and prevent the accumulation of dirt. The containers can be fully filled and emptied, which prevents any residue remaining in the container that can endanger its contents. Speidel's tanks are long-term companions and help you to save time and money.


FS-MO-3B-ZKG 3 bar pressure tanks are available in various sizes with different diameter and capacities from 300 liters up to 20 000 liters. Please find the list of models on pages 4-6 of the product sheet.