Stainless steel storage tank, Speidel BD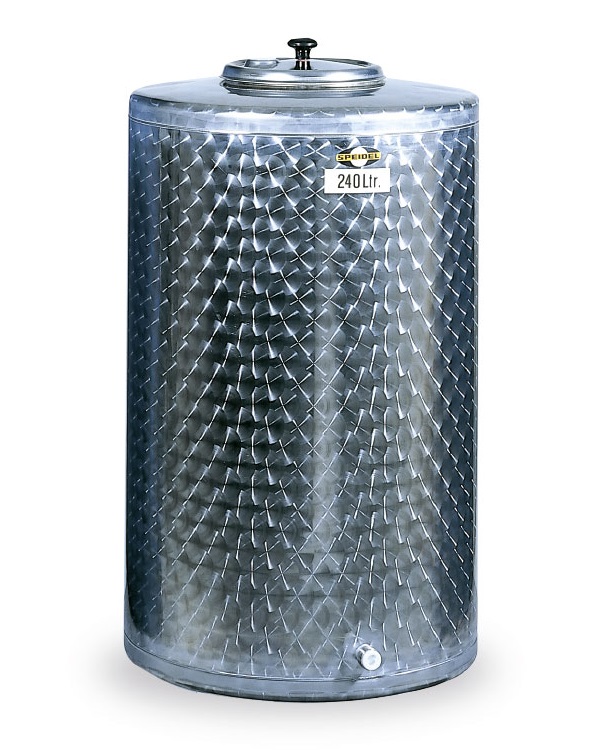 Stainless steel storage tank from Speidel, BD-series. Vaulted tank top with filling dome 220 mm. Variable capacity from 100 up to 320 litres.

Technical INFORMATION
| | | | |
| --- | --- | --- | --- |
| Product code | Capacity | Diameter | Height |
| BD-044-100 | 100 l | 440 mm | 758 mm |
| BD-055-240 | 240 l | 550 mm | 1141 mm |
| BO-063-320 | 320 l | 630 mm | 1153 mm |
The storage tank BD is completely made of AISI 304. Therefore it is often used to store and mature spirits. It is, however, also ideally suited for the storage of smaller quantities of fully fermented beverages.
The BD is robust and long-lasting. The tank's resistant walls, its excellent finishing and stability are typical of Speidel's characteristic quality.
Racking outlet:
Up to 240 litres capacity internal thread G 3/4" (BSP) with plastic blank cap
From 320 litre capacity upwards external thread G 1" (BSP) with plastic blank cap
High quality stainless steel containers from the leading German manufacturer Speidel are suitable for storing juice or for the fermenting and preserving of wine, cider or beer. Only the first-class stainless steel, which is thicker and more durable than regular, has been used to manufacture these containers. The tanks are smooth from inside and have Speidel's legendary concealed welds, which ease the cleaning of the tanks and prevent the accumulation of dirt. The containers can be fully filled and emptied, which prevents any residue remaining in the container that can endanger its contents. Speidel's tanks are long-term companions and help you to save time and money.