Stainless steel tank with open top, Speidel FO2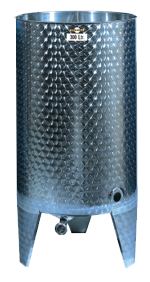 Open top stainless steel tanks Speidel FO1 series, variable capacity from 300 up to 910 litres.

Technical INFORMATION
| | | | |
| --- | --- | --- | --- |
| Product code | Capacity | Diameter | Height |
| FO2-063-300 | 300 l | 630 mm | 1384 mm |
| FO2-082-530 | 530 l | 820 mm | 1361 mm |
| FO2-082-675 | 675 l | 820 mm | 1620 mm |
| FO2-082-910 | 910 l | 820 mm | 2109 mm |
Speidel's variable capacity tanks always adapt to the amount of liquid they contain. The floating lid ensures that no air comes in. This way there is no chance for oxidation. Popular variable capacity tanks have been established and proven in many ways. Like all Speidel tanks they are top-quality. They can be used as storage tanks or fermentation tanks.


Racking outlet:
Plain surface with drilled hole ø 48 mm (to hold flap valve Gr. 37 or weld-on thread NW 40, NW 50 DIN 11851)
In case of ø 630 mm reinforcement moulded out of the tank's casing
In case of ø 820 mm with welded-on reinforcing plate
Bottom outlet:
Total outlet neck with external thread NW 40 DIN 11851
High quality stainless steel containers from the leading German manufacturer Speidel are suitable for storing juice or for the fermenting and preserving of wine, cider or beer. Only the first-class stainless steel, which is thicker and more durable than regular, has been used to manufacture these containers. The tanks are smooth from inside and have Speidel's legendary concealed welds, which ease the cleaning of the tanks and prevent the accumulation of dirt. The containers can be fully filled and emptied, which prevents any residue remaining in the container that can endanger its contents. Speidel's tanks are long-term companions and help you to save time and money.