Stainless steel transportation tank, Speidel KO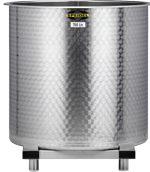 Stainless steel mixing /blending, transportation and tipping tank from Speidel, KO-series. Tanks have stainless tube feet. Variable capacity from 380 up to 1050 litres.

Technical INFORMATION
| | | | |
| --- | --- | --- | --- |
| Product code | Capacity | Diameter | Height |
| KO-100-0380 | 380 l | 1000 mm | 653 mm |
| KO-100-0550 | 550 l | 1000 mm | 903 mm |
| KO-100-0750 | 750 l | 1000 mm | 1153 mm |
| KO-120-1050 | 1050 l | 1200 mm | 1153 mm |
Speidel's tank KO for mixing /blending, transportation and tipping is first choice for first-class wines. The forklift profile allows for the grapes to be tipped from the tank right into the press, thus enabling an extremely gentle processing of the mash.
The KO can also be used for subsequent treatment. Many customers order it with double jacket and mash door as accessories and use it to ferment small batches. Tanks have open top with strengthening rim, width of rim approx. 42 mm. Tanks are with forklift profile 120 x 60 mm, internal dimension Form 114 mm x 54 mm. Tanks are flat from the bottom and are standing on stainless steel tube feet.


High quality stainless steel containers from the leading German manufacturer Speidel are suitable for storing juice or for the fermenting and preserving of wine, cider or beer. Only the first-class stainless steel, which is thicker and more durable than regular, has been used to manufacture these containers. The tanks are smooth from inside and have Speidel's legendary concealed welds, which ease the cleaning of the tanks and prevent the accumulation of dirt. The containers can be fully filled and emptied, which prevents any residue remaining in the container that can endanger its contents. Speidel's tanks are long-term companions and help you to save time and money.